In this, the second instalment of this series (here's part 1), we'll be looking at more comedians, many of whom you can see live, hiding somewhere within your Doctor Who box set.
We'll also cheat the rules a little bit, and give some honorable mentions. This time it's the turn of Lee Evans, Charlie Baker, Toby Hadoke and Brian Cox (not that one, unless you meant that one, in which case it is that one).
Charlie Baker
Charlie became a fixture on the comedy scene around 2006 after becoming a finalist in So You Think You're Funny. His background in musical theatre added a showy element to his stand-up. With with his infectious grin and witty demeanour, Baker has become a club favourite.
As well as Doctor Who, Baker made a memorable contribution to Comic Relief as part of the Let's Dance series:
In Doctor Who, Charlie appeared in A Good Man Goes To War. He was credited as playing "The Fat Man", one half of a gay couple, who was "converted" to the order of the headless monks. This is a nice way of saying that he had his head cut off (spoiler alert!).
Charlie has appeared at the Edinburgh Fringe many times over, and should be appearing at a Comedy Club near you soon.
Toby Hadoke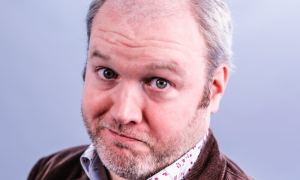 Slight bending of the rules here, as to say that Toby Hadoke has been in an episode of Doctor Who is factually inaccurate. However, to say that there's an episode of Doctor Who that hasn't been in Toby Hadoke is way more inaccurate.
Toby is a human encylopedia of the show with profoundly deep knowledge of everyone who has been in it, what else they've done, and what they had for lunch during filming (probably). That said, Toby has been in some of the Doctor Who Big Finish audio dramas, and you will find him in your Doctor Who DVD collection if you look deeply enough.
As a trained actor and expert on the subject Toby contributes to the Value Added Material on the classic series releases, both moderating commentaries and providing voice overs to some of the documentary Special Features. If you ever want to know about the UNIT dating conundrum (don't ask) then he's your man (if you must ask, ask him).
Toby appeared in Mark Gatiss's docu-drama An Adventure in Space and Time as a barman at the BBC.
As a comedian, Toby is the founder and regular MC of XS Malarkey, Manchester's finest independent comedy club. He works at clubs in the Manchester area, and gigs all over the country too. At the Fringe Toby can be found in solo shows, usually about the BBC, most commonly about Doctor Who.
His first show Moths Ate My Doctor Who Scarf also toured Doctor Who conventions and was adapted into a radio drama.
Recently Hadoke's award-nominated The Dad Who Fell To Earth was broadcast on Radio 4.
Brian Cox
If you want to count the number of Doctor Who related Brian Coxes, you'd reach two. The actor Brian Cox played Sidney Newman in the docu-drama An Adventure in Space and Time. The one-time d:ream keyboardist and brainiac pin-up Professor Brian Cox appeared as himself in the Season 7 episode The Power of Three, with Matt Smith's eleventh Doctor at the helm of the show.
This isn't the first time a well-known popular scientist has appeared in the Matt Smith era. Richard Dawkins (who is either popular or hated, depending on your point of view) appeared in The Big Bang at the end of Season 5. Given that Dawkins is not a comedian and is married to Doctor Who's Lala Ward (Romana 2), we won't mention him any further in order to avoid being sucked into a digression the size of a black hole.
While not himself a comedian, Brian Cox crosses over into the world of live comedy as one half of the Infinite Monkey Cage a science-based comedy live show, co-hosted by circuit stalwart Robin Ince. We believe he's also shared a breakfast or two with Dara O'Briain; in short, you can see him live in a comedy context, so we're having him in the list.
Lee Evans
Lee Evans retired from stand-up in 2014. If you haven't seen him live, then the next best thing is to turn to his several live DVDs. His high-energy low-status style makes him both adorable to audiences and famous for sweating right the way through his suits.
His flair for character acting has carried him well both in Hollywood movies, and also on the West End stage – where he opened the UK run of The Producers musical, in the role of Leo Bloom (originated by Matthew Broderick).
Lee appeared in Planet of the Dead as Professor Malcolm Taylor, a UNIT scientist who was working on the Earth side of the wormhole that took David Tennant's Doctor along with Michelle Ryan's upper class cat-burglar across the universe in a London Bus.
Fan reaction to Evans was positive and there was talk of a possible spin-off series for the character. Evans has Welsh roots, which gave his Welsh accent a pleasant sense of authenticity.
Here's part 3 of the comedians of Doctor Who. If you missed part 1, you can find it here.