Set your inner geek to warp factor loads, because this edition of our occasional foray into matching the cast of Doctor Who with the nation's favourite funny people is bigger on the inside.
This time we look at the significant crossover between Doctor Who and Spaced.
You could easily imagine that the characters from Simon Pegg and Jessica Stevenson's much-loved London sitcom would themselves be the sort who'd sit down to watch Doctor Who, although Spaced was aired between 1999 and 2001, the years when the Doctor Who franchise seemed to be dead.
The 1998 Paul McGann TV movie had been a relative failure, and Russell T Davies wasn't going to come along for another 3 or 4 years yet. However, the Spaced team were creating a little Doctor Who battalion of actors without even realising it.
Simon Pegg
One-time stand-up comedian, Simon Pegg, has been in tons of comedy. He supported Steve Coogan on his Man Who Thinks He's It tour. He appeared in Sketches as part of Bill Bailey's TV series – Is It Bill Bailey? He was in BBC sketch series Big Train. That's just his early work. Pegg is, through and through a genuinely funny comic performer, and a sci-fi fan to boot.
Pegg's sci-fi credentials on screen are enormous. He's one of the few actors who can put Star Trek, Star Wars and Doctor Who on his CV.
As Scotty in the Star Trek reboot, he delivered a fine showing. In The Force Awakens, he was the voice behind Unkur Plutt. And in Doctor Who (which is what we're here to talk about, of course) Pegg played The Editor in the episode The Long Game, with Christopher Eccleston's Doctor.
Pegg is one of the UK's finest exports, and a strong opener to this part of our list.
Jessica Stevenson
More accurately known as Jessica Hynes, one of her earliest appearances on British TV was in The Royle Family, as Cheryl, the introverted friend of Caroline Aherne's Denise.
Jessica has also served her time as a character actor playing alongside the likes of Harry Enfield and Reeves and Mortimer (in Randall and Hopkirk). She co-wrote Spaced and appeared in it as Daisy, an aspirational but lazy young professional with more than a hint of awkwardness.
Having also appeared in Doctor Who audio drama with Big Finish, Jessica's on screen appearance in the series was in the Season 3 two-parter, Human Nature and the Family of Blood. She appeared as two generations of the Redfern family, alongside David Tennant's 10th Doctor.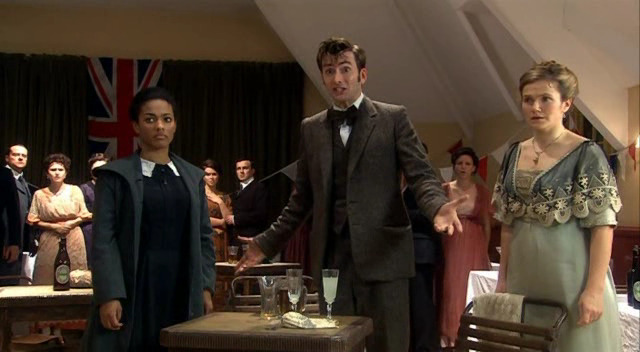 Tony Way
Tony played the dour paperboy, invited to Daisy's party in Spaced. A very distinctive-looking young man, he was instantly recognisable fifteen years later when he appeared as a victim of the clockwork robots in Peter Capaldi's debut episode Deep Breath.
As a veteran of comedy TV shows and comedy films, Tony is one to watch out for. He has a rather memorable scene with Martin Freeman in Sacha Baron Cohen's Ali G In Da House, for example.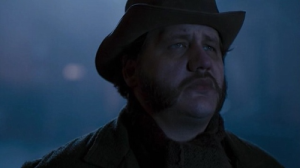 Image from Tumblr
Nick Frost
Ever the side-kick in a Simon Pegg show, Nick Frost is not to be underestimated. He always brings a warmth and huge presence to any role, which makes it no surprise that he was cast as Santa in the 2014 Christmas Special, Last Christmas.
Looking like Richard Attenborough in Jurassic Park, Frost brought his usual down-to-earth humanity to the role as well as a dash of humour.
Michael Smiley
As bicycle courier "Tyres", Smiley drove a couple of Spaced episodes forward with a combination of charisma and threat. Smiley is still performing live as a stand-up comedian, as well as his TV and film acting work. In Doctor Who he was a solider in the Peter Capaldi episode Into The Dalek.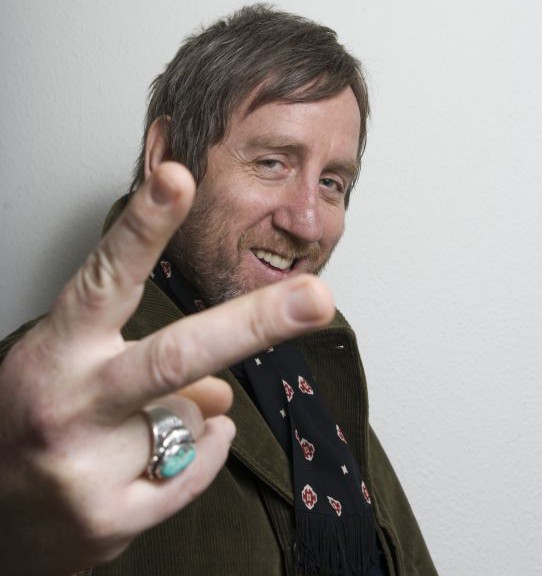 Bill Bailey
Probably one of the country's most popular comedians, Bill Bailey has proved his Doctor Who fan credentials. His "Belgian Jazz" take on the theme tune – "Doctor Qui?" (below) is a comedy classic, and he's often dropped bits of sci-fi into his comic material.
Bailey was brought into the cast of the show for the Matt Smith Christmas Special The Doctor The Widow and The Wardrobe. He played a scout – Droxil – from the Androzani Major system, part of a rather hapless crew, which included the Fast Show's Arabella Weir.
In Spaced Bailey played Bilbo Bagshot, Tim's boss.
He is frequently on Tour in the UK and has a range of DVDs and albums, featuring his particular mix of spaced out spoken and musical comedy.
Even more
We will come back to Reece Shearsmith and David Walliams in future installments. There may also be others. If you want to place bets on who will be in the next series of the show, the Spaced cast list is good material for a sweepstake.
Read part one and part two of our Comedians of Doctor Who series.