There are quite a few comedians on the circuit today who you may know better from their other work. Here are five that you might not have known are gigging – and we highly recommend checking them out!
Paul Sinha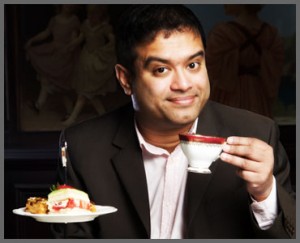 Ex-doctor Paul Sinha is a very clever man indeed. Not satisfied with nailing pub quizzes, Sinha became one of the eponymous "chasers" on the popular ITV game show The Chase.
What you might not know is that he is as devastatingly funny as he is smart, appearing regularly on radio panel shows, undertaking two UK tours, and performing stand-up in places as diverse as Beijing, Munich, Amsterdam, Barcelona and Tokyo.
Isy Suttie
Actor, comedian and musician Isy Suttie has appeared in comedy clubs and festivals, and had her 2012 Edinburgh Fringe show, Pearl and Dave, made into a Radio 4 special.
She's probably best known as Dobbie from Channel 4's Peep Show.
Chris Addison
Chris Addision, who should probably also appear in our round up of comedians appearing in Doctor Who, is a very successful stand-up comedian. His tours, DVDs and Radio 4 series are well worth a look.
However, it was for his role in political comedy The Thick of It (and its sister film, In the Loop), playing against Peter Capaldi, that he first came to many people's attention.
Tim Vine
Master of puns (and we mean that – he has held a joke telling world record) Tim Vine is a very well known comedian.
He managed to make people laugh at one Edinburgh Fringe Festival when he wasn't even performing (he put up a huge poster advertising the fact), and he's a popular touring comedian with several DVDs available.
He might be best known television-wise, however, for his appearances as Lee Mack's friend Tim in the long running sit-com Not Going Out.
Read more: Our round-up of some of the best punsters on the circuit
Norman Lovett
Normal Lovett should be a national treasure. He's performed on the comedy circuit since the alternative comedy movement began, playing at the original Comedy Store and even playing support for The Clash.
He gained huge international popularity, however, when he appeared in the original series of Red Dwarf as the ship's computer – Holly. He returned to stand-up in the noughties and has released comedy DVDs. These days, he can be found in comedy clubs (and nerd conventions).
Read more: 8 ways to do the Edinburgh Fringe Festival badly
Photo by Internet Archive Book Images