If you put "Twitter comedian" into Google, only one Twitter account is featured on the first page of results – right at the top. Rob Delaney.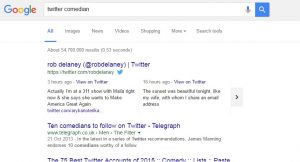 See.
Okay, I understand that Google results can vary, but this is the result of an anonymous search and, if nothing else, demonstrates that the search engine clearly thinks that he's the man I'm after if I want some funny tweets.
Now Rob is far from the only comedian on Twitter. In fact, it is seen as a pretty effective way for acts to publicise their tours and connect with their fans – so why wouldn't they be on there? In their thousands?
The fact is, they are. Many do it themselves. The bigger acts hire people to do it for them. Occasionally they set up accounts and leave them dormant in order to prove that they don't do that sort of thing. But they are all there.
But what about Rob? What has made him the top-ranking comedian on Twitter (at least by my shaky metric)?
it's simple, really. He's mastered the art of the conversational one-liner. His tweets differ from some other comedians, who deliver one-line gags of the type you might expect to find in a jokebook. Here are some examples.
Instead, Rob's tweets are very chatty, frequently absurd, and always accessible.
Anyway – enough waffle. Here are 8 of our favourite Rob Delaney tweets. Enjoy!
A nice bit of surreal humour there.
This one is very simple. It makes a point. People agree with it. They feel nice about themselves. Everyone wins.
An all-time classic. Is this the greatest tweet ever?
Back to the slightly surreal. True story, too of course…
Simple but effective.
Because nothing says "I love you" like a wheelie bin full of flowers…
Well that was unexpected (and therefore funny).
Tru dat.
You can of course follow Rob on Twitter by clicking through to his account via the links above. You can follow us on Twitter too.
Photo by eldh